The Cali Ophthalmology Clinic, always at the forefront of medical technology, makes the RetCam 3 equipment specialized in pediatric ophthalmology available to the Colombian population, being one of the two institutions in Latin America that has this device.
The RetCam3 system was specially designed for pediatric use using state-of-the-art digital technology that enables high-resolution wide-field imaging and video capture quickly and easily, even in uncooperative patients.
These images can be stored, viewed and transferred thanks to an intelligent analysis system that allows real-time diagnosis.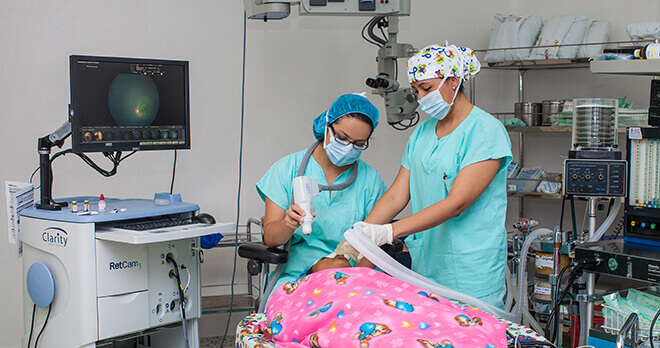 The use of the RetCam3 system has very important advantages:
With a single capture it allows an examination of a very large area of the retina. The digital camera's wide-field lens makes it easy to document the entire retina with as few as nine images. This is achieved thanks to the image resolution offered by the RetCam3 system.
The system software allows the comparison of images of the same patient at the same time, a feature with which the specialist can observe the evolution of the patient between exams and optimize his diagnosis.
This device allows the detection of more than 30 pathologies of the newborn, including: Leber Congenital Amaurosis, Cone Dystrophies, Achromatopsia, Fixed Congenital Night Blindness, Congenital and Acquired Structural Abnormalities, Stickler Syndrome, Retinitis Pigmentosa, Retinal Detachment due to Trauma , Shaken Baby Syndrome, Toxoplasmosis, Toxocariasis, Herpes, strabismus and tumors in the precise time to improve the visual and vital prognosis of the patient.
Get your diagnostic tests in our clinic, you will be in the best hands.