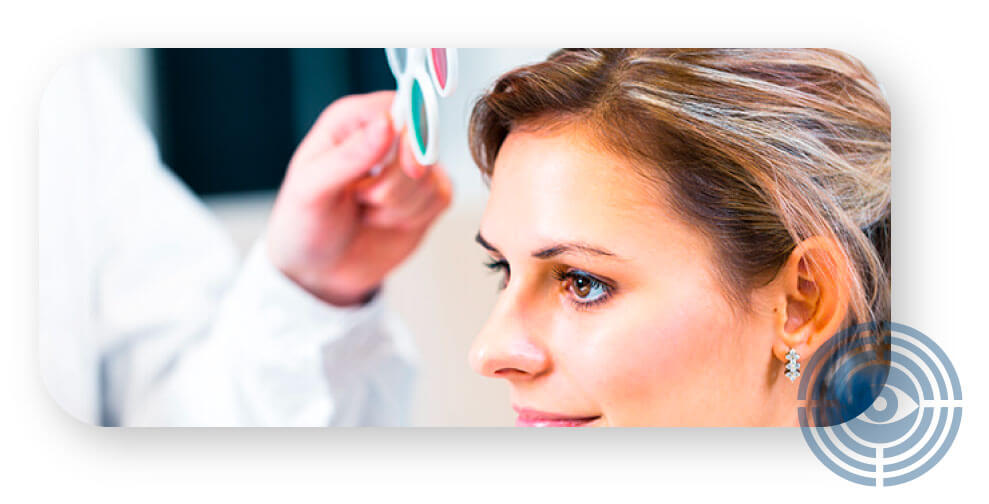 Orthoptics and Vision Therapy
It consists of an evaluation of the mobility and muscular balance of the eyes. It is recommended for anyone with convergence insufficiency, strabismus, amblyopia, and double vision, pathologies that prevent visual development due to existing muscle imbalance.
The therapies are specially designed to help the patient to improve their deficiency through a series of specific visual exercises. The collaboration of the patient is essential and the results are highly satisfactory.
For whom are orthoptic therapies useful?
All those people with visual impairments such as lazy eyes, strabismus, or problems that may have been caused by bad habits can be re-educated on certain occasions.
But it can also help the general population since these exercises have a preventive nature against eyestrain, an increasingly common problem due to the constant use of electronic devices.
The World Health Organization (WHO) establishes that for a person to be considered low vision it is required:
That the loss of vision is bilateral,

that there is some degree or visual residue,

that the condition is associated with pathology or

that the range of vision is between the perception of light at 20/60 and/or there is compromise of the visual field.
The Clinic has a special low vision program in which a specialized professional teaches affected people to use their visual remains in the best way so that the individual can adapt and function in the environment. Rehabilitation is carried out once all medical-surgical treatments have failed, using optical means or low vision aids.
Low Vision therapy is aimed at:
Perform multisensory stimulation with visual emphasis for babies with problems of neurological or visual origin.

Implement visual efficiency therapies for the school integration of children with low vision. Psychopedagogical support.

Adaptation of visual aids.

Orientation and initiation of the rehabilitation of the visually impaired.
If you wish to access our visual therapies, schedule your appointment and a specialized advisor will provide you with all the guidance and information you require.
Our medical specialists and subspecialists have the knowledge, handling techniques, human warmth, and experience to provide you with solutions.
Diagnostic aids and laser
We have the technologies and equipment to perform all kinds of tests with reliable and accurate diagnoses of your visual status.
Quote with us to provide you with personalized service. We will guide you and solve any doubts you might have. Feel safe and confident with our high-quality services.
Prepaid Medicine Services: